FABRICE BERRUX ON PASSION & CURIOSITÉ
by GO MODERN FURNITURE / FEBRUARY 6, 2020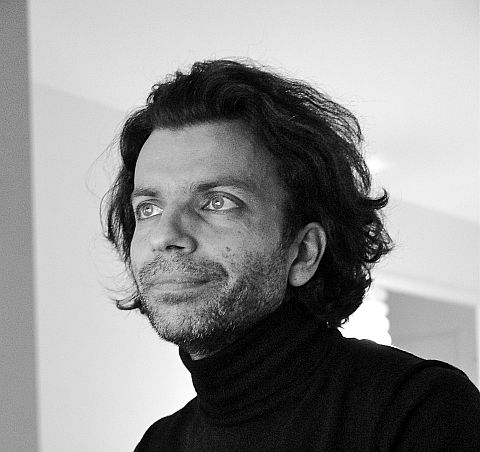 "The circle is complete when the product strikes the right balance between the obviousness of its function, the elegance of its form, and the story it tells"                                 – Fabrice Berrux 
There are some wonderful things that immediately strike you when first meeting designer Fabrice Berrux. His incredible enthusiasm and genuine delight in life for starters, alongside an absolutely infectious passion for design. So we were thrilled to meet him for the first time at Salone del Mobile last year. We already knew Berrux' work for Italian manufacturer Bonaldo very well. But it was as we talked with him on Bonaldo's stand, and saw his many designs stylishly displayed in one place, that we experienced our 'moment' of the show.
Fabrice Berrux – A brief background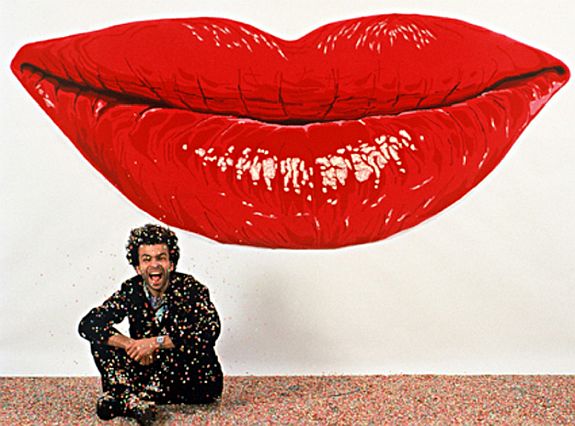 Born in Paris in 1964, Fabrice Berrux graduated from the National School of Fine Arts in Dijon. He then set up the design firm '18 Août'. At this time the company created a series of 'playful objects', including FLOWER vase, a tribute to Andy Warhol. Then, in 1991, Berrux launched Dix Heures, a design company reorganising and enlarging on '18 Août's' production, with a specialism in lighting.
Berrux now also shares his huge talent with students of design, and since 2005 he has been a visiting lecturer at the École Bleue in Paris.
His commercial collaborations include some of Europe's best known design and furniture brands, including Bonaldo. Now into his third collaborative year with the company, Berrux' Panorama modular sofa picked up a GOOD DESIGN® Award in 2018, an immense tribute from the oldest and most prestigious global award for design excellence and innovation. This was followed at the end of last year with a second award from the organisation for his Delta table.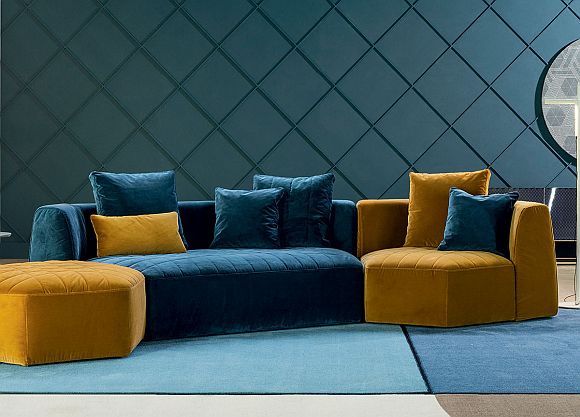 GM: Firstly, congratulations on your recent Good Design Award for the Delta Table. This is your second award from them. What are your thoughts on this prestigious celebration of your work?
FB: Thank you so much! I won't surprise you by telling you that I don't work for awards… but I do welcome the opportunity to be celebrated by the profession. It feels good … especially when for two consecutive years, the fruitful collaboration with Alberto Bonaldo and his team is kindly rewarded. I'm proud of it! And, if I can admit to you, that the founders of this prestigious award (Ray & Charles Eames – Arne Jacobsen) are among my favourite designers.
"My 'creative engine' is curiosity!"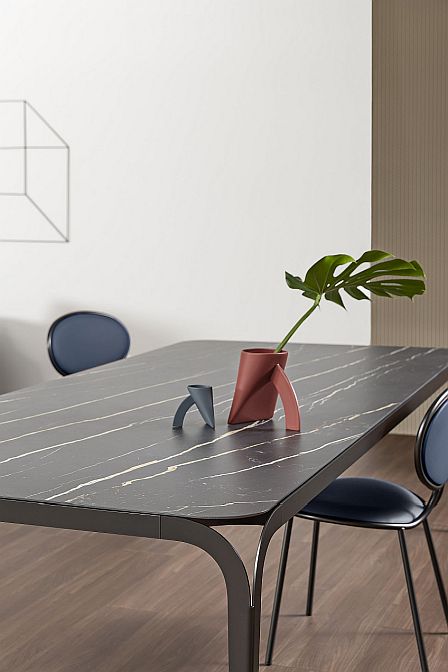 GM: Going back to your roots. Do you come from an artistic family? Where does your creativity spring from?
FB: Although my parents were always interested in contemporary art and design, I was not born into a family of artists. Along with my cousin, who has become a successful writer, I am the first generation in our family to have chosen an artistic profession.
Two people played a major role in my artistic education: my maternal grandfather and my uncle, father of my cousin. My first exhibitions, my first 4-hand drawings, my first creative fantasies… it's all thanks to them! I always hope that I show myself worthy of their encouragement.
From these early years until now, my 'creative engine' is curiosity!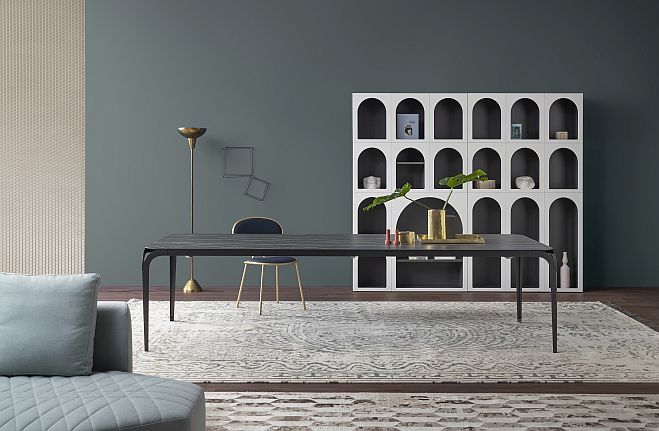 "Flexibly accept the surprises at each stage of the creative process"
GM: Along with running your own design studio and projects, you have taught design for many years. Is there a recurring piece of advice you offer your students?
FB: Before advising them, I try to make them want: want to get involved, want to surprise themselves, want to create … Then, I stimulate their curiosity. I encourage their audacity and sometimes mock their conformism! And it works …
GM: Is there anything you know now that you wish you had known when you were starting out?
FB: Opportunism: flexibly accept the surprises at each stage of the creative process. Patience: accept to submit to the time requirements of the publisher and the manufacturer. Surround yourself with the best and minimise the risk/randomness …
GM: Who in the design world, past and present, do you unfailingly admire and why?
FB: Just as Pablo Picasso embodied the modern artist during his lifetime, Philippe Starck is now and for many years the embodiment of design worldwide. I have a deep admiration for the power of his multi-faceted talent.
GM: At what point in the design project do you get to see the finished product? Have you ever had any 'surprises'?
FB: The circle is complete when the product strikes the right balance between the obviousness of its function, the elegance of its form and the story it tells. The final touch is the choice of name! I compare this work to that of a writer. I rework my "sentences" tirelessly until they sound good and they seem intelligible to me. Touch-ups generally occupy me for weeks, months or even years.
GM: The Panorama sofa, Cabinet de Curiosité, Delta table and Otto dining chairs were displayed together in Milan last year and they looked fantastic! Each product was obviously designed separately, but were you aware of how cohesive they would look?
FB: You are right. I was very pleasantly surprised to see this. To discover that all these products, drawn separately, and at different times, could compose a coherent and aesthetically pleasing whole. Their consistency is not planned. There is no identifiable link between colour, material and style.
GM: How do you marry the artistic side of what you do with the highly demanding industrial side of creating a piece of furniture? Do these two areas ever fight each other?
FB: On the contrary, these two aspects are perfectly complementary. Like the sun and the moon, or like my share of femininity which plays with my masculinity.
In this regard, I think of a very beautiful sentence from the French writer Philippe Sollers, who in his novel "Portrait of the Player" describes himself with these few words: "Too intelligent to be sensitive, too sensitive to be intelligent".
"I like to leave a little 'light' on standby to eventually fuel the many projects that occupy my imagination"
GM: Which part of the design process do you enjoy the most?
FB: There are three interrelated moments that I particularly like. They are the salt of my job! First of all the phase during which I lose myself; to know nothing more, to let myself be guided by the "I don't really know what".
Then there is the jubilant, liberating and sometimes dazzling pleasure of the story that makes sense, of the object that takes shape. Of the simple evidence that I will try to share.
The last step is the conspicuous brilliance that I want to detect in the eyes of the client at the time of the presentation of the project.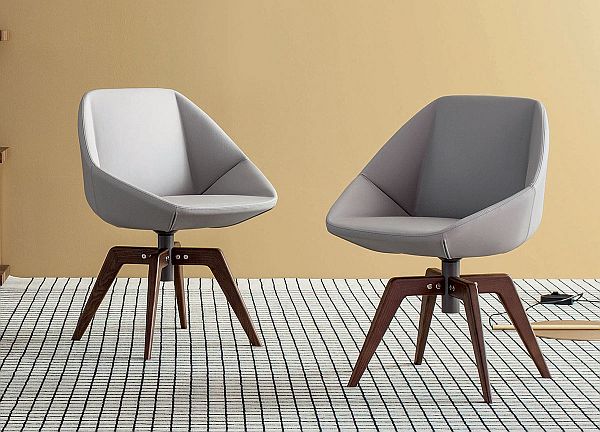 GM: How do you switch off? How does the creative side of your brain take a holiday?
FB: I always leave one of my lights on at home when I leave my apartment! I agree, it's not a very eco-responsible way to behave, but I like to find my interior with a semblance of life when I return. The same goes for my work. I never really stop! I like to leave a little 'light' on standby to eventually fuel the many projects that occupy my imagination.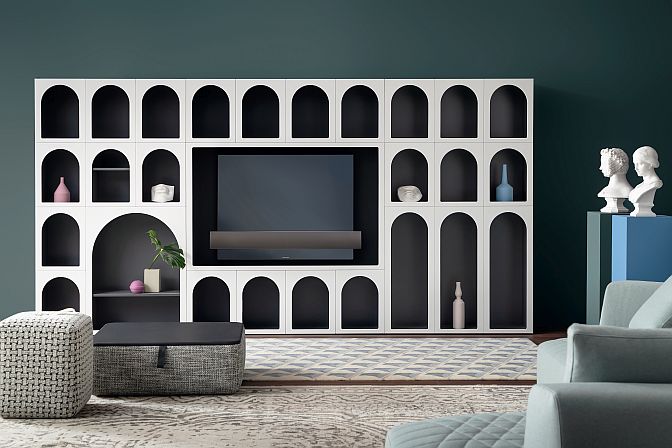 GM: If you could choose just one of the pieces you have designed for Bonaldo, what would it be and why?
FB: As the collector that I am sometimes, I would choose the Cabinet de Curiosite in which I would store in its different windows / alcoves models of all my other projects: Panorama, Stone, Parentesi, Delta and Otto…
GM. A great answer! And what is coming next?
FB: In response to this question, a phrase I read in an exhibition by the artist Sohie Calle comes to my mind: "Beauty is coming."
With Alberto Bonaldo and his dream team, we are preparing some surprises for the next Milan show. Circus, a table that I hope to be iconic, Colibri, oversized comfort and Anémone, the coat rack that I dream of having …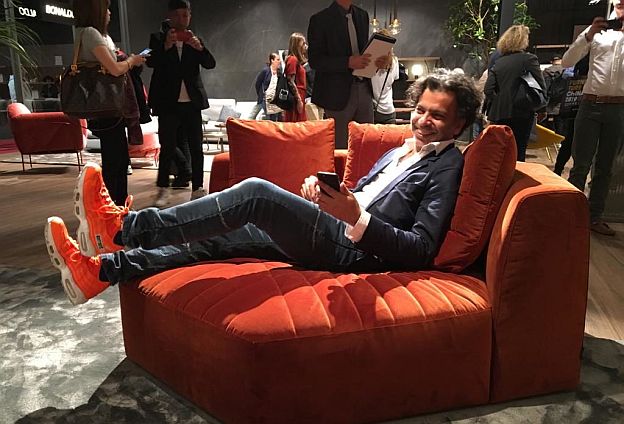 And now we are the curious ones! Until April…